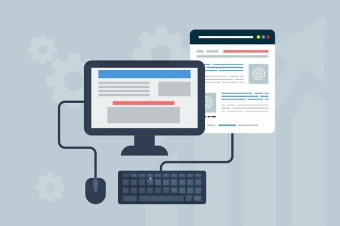 Websites today are "must have" marketing and selling tools.
Years ago those who represented businesses should have business cards. These days we still need business cards, but now businesses ought to have a web address on it. This is not about fashion; we may like it or not, but web presence now is the required business attribute.
 
Well designed website represents a company and brings the first attraction to the customers. For some companies a website is a direct source of revenue generated from on-line orders and sales.
Most potential customers prefer to check a website prior to making a phone call. This is very important to win a customer favour from the first step and then provide the customer with the convenient web services, informational resources and buying tools.
An effective web presence is about the look, feel and style integrated with required functionality. We take care of all these elements and recommend optimal approaches from the budget and business perspectives to achieve the goal.
List of some of our products
Website / Intranet design and development
E-Commerce solutions / Online Stores
Graphics design
Web Application development
Existing website renovation
Business Web Hosting
SEO (Search Engine Optimization)
All web related supplementary services:
Domain name management/DNS, Mail servers, Social networking just to name a few